Modern-day technology helps us understand the world better and get through our day in a more productive way. Whether we use computers or applications, we can make our days better simply by relying on technology. From simple calculators to software that can do amazing things for science and entertainment.
Martial arts practitioners also need technology, or rather, they can benefit from it, making their exercise better, as well as everything else. Here are the best applications for martial arts practitioners.
Fighting Trainer – MMA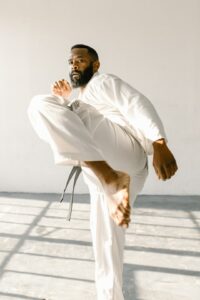 Mixed martial arts are very popular. A good part of that is due to exposure and advertising. The fact that it has mixed in the name also allows practitioners to express their individuality. Fighting Trainer is an application for iOS and Android, developed by Critical Bit. This application is different from other training applications because it actually has motion-captured moves. This allows for a realistic presentation of moves, from grapples to kicks. Presented by a champion in karate, you can be sure that the kicks and punches will be of the highest quality.
SweetScience Box
Training requires planning, everybody knows that. One does not simply go out to exercise without a plan. That would work for absolute beginners, but anybody from an intermediate level and upwards will need a stricter routine.
SweetScience Box can help with that. It is an application that is mainly focused on boxing, so if you are feeling that your arm techniques need to work out, it is a great place to start. It helps with workout creation, planning, as well as introducing a partner to exercise together. From simple exercises to HIIT exercises, the application has boxing covered.
Wing Chun Trainer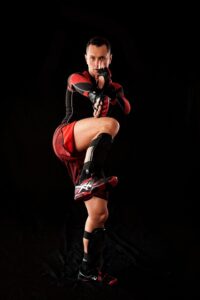 Wing Chun is all about speed and the hands, with enough kicks to keep you on your toes. This application helps by providing the user with 3D exercises.
The exercises can be viewed from all angles, so that the technique can be seen and therefore, practiced properly. Most of the demos are presented with a wooden dummy in single-user mode. If you have a partner, you can switch to a different mode which will have exercises presented with two people. The application has offline videos so that one does not need to use up their internet data.
Karate Training Program
Everybody wants to learn karate, or at least, they did once they were children. Karate movies of the 80s made sure of that. It is a good application to introduce beginners to karate. It helps with establishing a good base, which is important in every martial art. A good foundation helps build a strong knowledge of movements, one you can always rely on.
There are weekly lessons, video introductions, and a series of exercises that one can watch and then implement into their workouts. It is an upbeat application, so one won't lack motivation while using it.
Mastering Taekwondo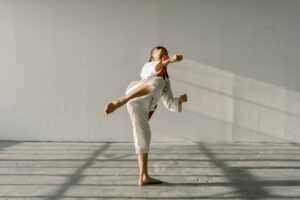 This application is all about the art of Taekwondo. It has high-quality video lessons, which can take the user through the basics of taekwondo, but also more advanced techniques. From punches, kicks to blocks, the application has a structured approach, allowing users to practice at home, without any additional equipment.
These are the best applications that upcoming and already knowledgeable martial arts practitioners can download and use to practice and become better.